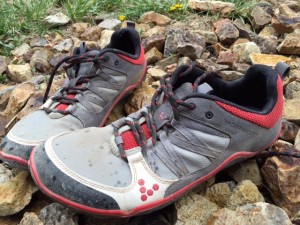 This review is a bit overdue…you see, I've put 491 miles on these shoes!  I've grown fond of them and yet, it's time to retire them and move on.  So, as a goodbye, this review.
I'm guessing if you're reading this post, you were directed here by a search engine.  Hence I'm going to assume that you already know why you'd want to consider a trail shoe with a thin 3mm sole and no cushioning!  If not, check out VivoBarefoot's website.  Yes, the sole is thin, though the large tread blocks add a bit of cushioning compared to 3mm road shoes I also own.  The small tread blocks and thin sole result in a highly flexible shoe that easily adapts to the contours of the trail…a feature I really love.  Protection from sharp rocks is adequate…you feel them, but it doesn't hurt (my trail runs often include decomposed granite).  The level of grip is phenomenal in any terrain…even snow and ice are easily handled by these shoes.  While water resistant, they're not waterproof and running through slush and puddles does result in wet feet (imagine that).  That same water resistance means they're not going to breathe as well as some shoes, but with most of my running in <80F temperatures, I never had any issues with that (but I suspect these might not be the best shoes for hot running!).
I used these shoes primarily to train for a marathon through the winter months in Colorado.  While much of the 491 miles was on dirt and trails, a significant portion was on paved sidewalks and bike paths near the end of my training on the long runs.  I also ran the marathon (paved roads the whole way) in these shoes!  They handled the pavement just fine, and the tall tread blocks seemed to be providing some extra cushioning when compared to my 'road' shoes.  Many people online have complained about the tread blocks on these shoes not being durable…but as my 491 miles have shown, if you're a moderately-paced runner like myself (~10min/mile), they hold up just fine.  A corner of a block or two have broken off, and they've worn down in some places to only a couple millimeters left.  That's the reason they're being retired..they're still great shoes, but the depth of tread blocks is no longer as aggressive as I'd like and it's summertime…time to hit the trails where I'll need all the grip I can get!
Unfortunately, VivoBarefoot is no longer manufacturing this wonderful shoe (the Trail Freak has replaced it).  You can still find some unpopular sizes online if you search.  Stay tuned for more reviews of running gear, including the Neo Trails siblings – the Winterproof Trail Freaks, and the regular Trail Freaks!