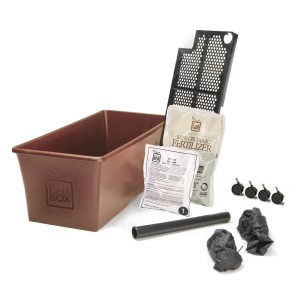 Read the marketing literature, and the EarthBox sounds like a revolutionary approach to growing plants.  I was skeptical.  The truth is, it's a self-watering planter with a very nice amount of attention to detail.  For example, they provide the right amount of fertilizer to use.  A plastic cover to reduce evaporation.  A nice fill tube and overflow hole.  Little stuff like that, but you know what?
It adds up to something great.
I've owned two of these.  The first, while I was living in California, produced a tomato plant over six feet high.  The second, in Colorado, has done a fantastic job of growing peas, beans, and cucumbers in a water-scarce climate.  I love it and can always count on the EarthBox to take care of the plants, giving them the right amount of fertilizer and water while I sit back and do nothing.  It's available for about $50 at Amazon, in both organic and non-organic versions.  It's large and heavy once you fill it with dirt and water, but still fits in nicely on a deck or patio, where hopefully you can keep the local wildlife away from it.
Which brings me to the one drawback…animals.  A raised bed is easily covered with deer netting to protect your crops, but this standalone planter doesn't lend itself nearly as well to that.  That six foot tomato plant I mentioned?  It produced countless tomatoes.  I ate ONE, just one measly tomatoe from that whole plant.  The rest were enjoyed by squirrels, who were rude enough to eat the tomatoes before they were ripe enough for us to harvest for human consumption.  So, when planning a garden, be sure to look around your backyard…the EarthBox will help your plants grow fantastically well, but who's going to enjoy the fruits of that?