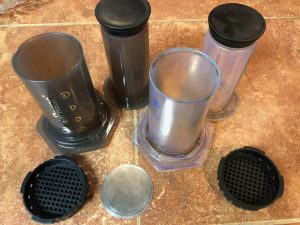 So, this is really more of a long term review, of my favorite coffee making machine!  It's called the AeroPress (~$30 at Amazon), and if you think it's basically a French Press…well you're right…but looking at it the wrong way.  Meaning…it's more like an upside down French Press!
Here's how it works.  Stick a filter in the black cap part, screw that to the sleeve, add coffee, and set it on top of a cup.  Add hot water…wait…then use the plunger to push the water out, into the cup.  Similar to a French press so far, but now it's time for cleanup…unscrew the black cap…the coffee grounds stay inside, just position over a compost container, push the plunger, and eject the coffee grounds into the compost.  Rinse the parts, and enjoy your coffee!  It's quick, easy, and produces great tasting coffee.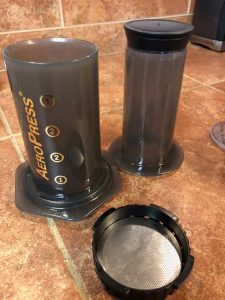 Now, the filter…in the image here I'm stainless steel filter…this is an optional accessory I bought (<$15 at Amazon); the regular AeroPress comes with a few hundred disposable paper filters.  Disposable is not my thing, so I opted for the reusable one (though I'm stuck with 350 paper filters that came with it…I'll either use them up, or find some other use, I don't want to just throw them away!).
Also note my picture has two AeroPresses…well, my original finally wore out (the clear one on the right), after over five years of heavy use.  The plunger seal deteriorated and won't hold pressure, so it makes it tough to push the coffee out…and since the pressure you apply can affect the flavor, it was time for a new one.  The design hasn't changed much…you can see they're now using a tinted plastic (probably to hide coffee stains if you just rinse it instead of washing it), and the plunger doesn't have the exterior ribs on it anymore so is a bit of a looser fit in the sleeve (with no noticeable impact on performance).  Other than that, it's the same.
Some people get pretty obsessed with technique…precisely measuring the coffee, or water temp, or even *inverting* the press during brewing.  You can have a lot of fun with these, but they don't require that level of obsession to produce great coffee!
If you're looking for an unbreakable, convenient, easy to clean way of making coffee, get an AeroPress!