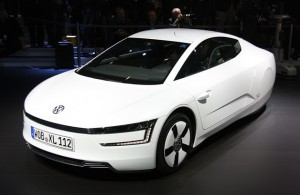 Volkswagen unveiled the production version of its XL1 two-seater car at the Geneva Motor Show recently.  It's a diesel-electric plug in hybrid vehicle that gets about 261mpg and an electric-only range of around 30 miles!  While those numbers may end up slightly lower once the car goes through the US tests (the European test cycle turns in higher numbers typically), it's still incredibly impressive.
Powered by a .9 liter two cylinder diesel engine, it's not especially fast, even with the electric motor assist….0-62mph takes 12.7 seconds, for example.  There's no official word on price, though since it's a low volume, largely hand-built production car, you can expect the price to be pretty high, probably pushing six figures.  Definitely an 'early adopter toy', but also a good example of the future of automobiles.
Read more at AutoBlog and NPR.
Video review below: