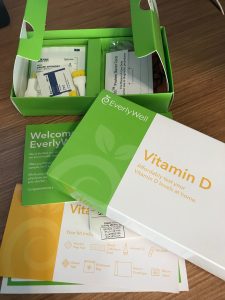 I'm not happy if I don't feel like my body is operating at peak efficiency…yet sometimes it's hard to figure out why things seem off.  If you have the time and patience, scheduling a trip to the doctor is always the best option.  For a quick peek into the systems of your body, there are at-home tests you can do to test an amazing number of things.  The company I've been trying out is EverlyWell, and they offer a really large variety of tests, depending on what conditions you're trying to debug:
Food sensitivity test
Food sensitivity+
Postmenopause test
Women's fertility test
Perimenopause test
Metabolism test
Metabolism+
Thyroid test
Testosterone test
Breast Milk DHA test
DHA+
Men's health test
Women's health test
Vitamin D and Inflammation test
Vitamin D test
Cholesterol and lipids test
Heavy metals test
Sleep and stress test
HbA1c test
STD test
Ovarian reserve test
You get the idea!  These tests aren't covered by most insurance companies, but depending on what you want to test and why, that may be the case anyway (or if you're on a high deductible plan, it's all out of pocket anyway, and you can at least use an HSA or FSA to pay for these).  It's cheap, quick, and easy…well sort of easy…some tests DO require some drops of blood so you need to be able to handle that!  Just remember…whatever your results, don't play internet doctor and go crazy over this…but DO use the results to determine if you need to schedule an appointment with a doctor to investigate further!
Get 10% off if you use this link.