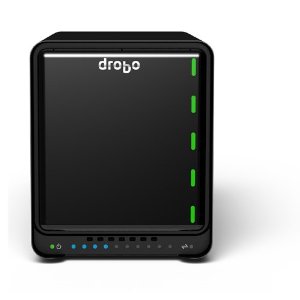 Today was 'new toy day' in my office, as I took delivery of a new Drobo 5N (~$600 on Amazon).  I loaded it with three 2TB WD 'red' drives and a 32GB SSD accelerator drive and got to work.
Think of the Drobo 5N as a giant hard disk on your network (access it like any network share), with the added benefit of having redundancy in case of drive failures.  For example, I have three 2TB drives in mine, and it's able to tolerate the failure of one drive, meaning I have 4TB usable space.  Pretty straightforward (but still not substitute for regular backups to an external USB drive!).  By creating different 'shares' (like folders on a drive), and creating user accounts on the Drobo, you can control access on a user by user basis.
I was really impressed with the initial unboxing…Apple users will feel right at home here (except the box and packing materials are black, not white!).  Very nice presentation, and the real surprise was that rather than being wrapped in a plastic bag inside, the Drobo 5N was tucked nicely inside a reusable cloth shopping bag (black, of course)!  Apart from the external cardboard box and a smaller one inside, the only other packing materials were two vacuum formed plastic inserts which were nicely marked for recycling.  I love seeing companies pay attention to the little details like they've obviously done here.
It took a little bit to get to a usable state, though that was mostly just waiting for it to configure itself…not surprising considering the storage space here, and not a big deal at all as user intervention was not needed.  After that, it was a simple matter of setting up shares and users.  All in all, great product so far…I'll report back on it after using it for a while, as well as compare it to my other NAS drives, an HP Windows Home Server and an older Netgear ReadyNAS NV+.
UPDATE – mapping network drives was a bit odd with this.  At first I tried doing it with the normal Windows 7  'map network drive' function but had some permission errors…so I then used the Drobo dashboard software to map the drives and sync the shares with my existing NAS.  The mapping didn't reconnect next time I logged in to Windows…but I was then able to use the traditional 'map network drive' in Win7 and that's working now.  Not quite sure what was going on before.  Apart from that, there's little to report.  The Drobo 5N just sits quietly (very, very quietly) with a few pretty glowing green lights and serves up files when needed.  Exactly what it's supposed to do.