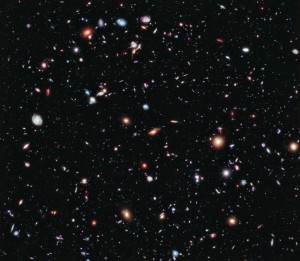 Hubble stunned us in 2009 with its incredible Deep Field Image. In a 48-hour exposure image covering about 1/15th the width of the moon, the Hubble Space Telescope captured thousands of galaxies. To put the scale in perspective, if the entire sky were photographed at this image size, it would result in approximately 30 million pictures. That's a lot of galaxies!
Anyway, in the time since the original picture, the telescope has been pointed at the same area of the sky again and again and the images combined, for a total image exposure time of around 23 days (two million seconds)! There are around 5500 galaxies visible in this image; you can view the full image by clicking on the thumbnail above.
Read more in Discover Magazine.