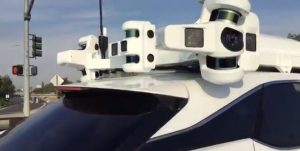 Lately I've been pretty optimistic about self-driving cars…the technology seems to be maturing so quickly, I've been expecting them to become commonplace in a matter of years, not decades.  A recent photo from Apple has me questioning that – and it's not a problem unique to Apple, all self-driving automotive technology currently has this limitation.
Take a look at that picture, what do you see?  An incredibly complex array of optical-based sensors.  Some are lasers, some are cameras.  All self-driving cars use something similar, at least based on what's publicly known right now (GPS is also used, but it just provides approximate location, with no insight into obstacles on the road).
So.  Optical sensors.  What happens when the lenses get dirty?  I used to live in CA so sure, out there they can stay clean for months.  Or, as Apple recently announced, the technology can be improved to deal with some raindrops on the lens.  But drivers in most of the country have an honest four seasons to deal with, and of course the worst is areas with snow.  Not just for the snow that can accumulate on the lenses, but when that snow melts, the dirty airborne mist kicked up by other cars coats your own in a deep layer of muck.
The automotive industry has developed washers for headlights to partially address this problem, but those are imperfect…but maybe good enough for this application?  Ideally, I think a true wiper-based solution is needed for each lens.
How will this be solved?  I really don't know…maybe improving the technology used to clean some car headlights.  Until then, I do expect self-driving cars to become commonplace, but only in mild-climate urban areas.