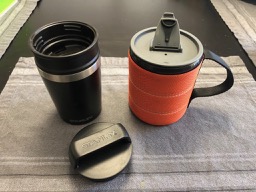 No camping trip is complete without a good cup of coffee in the morning!  This is even more important when backpacking, as your surroundings are so idyllic that enjoying good coffee just caps off an already magical experience.  With that in mind, this review is focusing on my quest to find a really good backpacking mug for coffee and tea.
There are a few basic criteria any cup must meet.  First, it must be at least partially insulated…it gets cold in the mountains of Colorado!  Second, it must have a lid for sipping.  Lastly, it must have a handle that I can use to clip it to my pack if I feel like it (translation – if I've packed too much and don't have space for the mug inside my pack 😉 ).  Shown above are my two current favorites.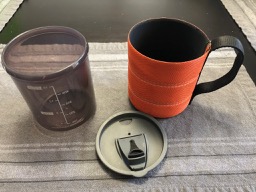 Let's start with the orange one, The GSI Outdoors Infinity Backpacker Mug (starting at around $10 at Amazon, depending on color).  The soft outer shell doesn't provide a ton insulation, but does prove sufficient.  it holds a cavernous 17oz, and has a sturdy lid – while the lid is just a friction fit, it's snug doesn't come loose.  Another nice feature is that the plastic inner cup is removable and you'll notice it has markings on it for up to two cups.  This is especially useful if you've packed dehydrated meals and need to measure out hot water for those!  All in all, a robust, quality mug that I used a ton last summer.
New to the game is the Stanley Adventure Vacuum mug, a story double-walled stainless steel option.  At around $15 at Amazon, it's more expensive than the GSI, but I have little doubt it'll last longer.  It's really tiny, with a measly 8oz capacity, but what drew me to this, apart from the double walled stainless construction, was its clever lid system.  There are two lids…one a sippy lid, the other a solid lid with a handle that a carabiner can easily clip to.  You can use either lid, or – this is the clever part – both lids at the same time.  So when packing, you screw the sippy lid on first, then the solid lid, and you're good to go, with no concern about anything coming loose and falling off along the trail.
So, which is better?  Well I love the ruggedness and double-wall insulation of the Stanley and for car camping, it's an obvious choice, even with its minuscule capacity.  But for backpacking, there's one more important test: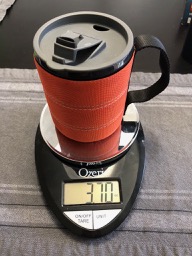 The GSI Outdoors Infinity Backpacker Mug weighs in at a featherweight 3.7oz.  It really is light, especially for its size.  Plus, it has a second function, to measure liquids to re-hydrate meals.  Bonus!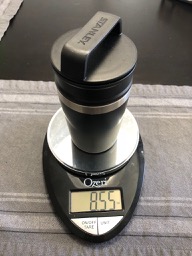 Ah, but then we get to the Stanley Adventure Vacuum mug, and its rugged construction really shows on the scales.  This mug holds half the amount of the GSI, but weighs more than twice as much!  8.5oz, that's just over half a pound!
Sorry Stanley.  You're an awesome mug and I love ya, but you won't be joining me on any backpacking trips!  We'll hang out car camping sometime though, I promise. 😉