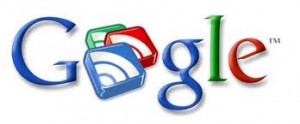 Google Reader is going away!  For I don't know how many years, Reader has been a part of my daily routines and the tool I've most used to keep track of approximately one gazillion RSS feeds.  As of July 1st, 2013, it will be no more.  This also means that my favorite RSS reader for the iPad, Reeder, will no longer work either (it syncs with your Google Reader account).
This feels…weird.  It's hard enough when I go camping in places without cell coverage and can't keep up with my RSS feeds.  Apart from those instances…RSS is a part of my life.  I have only a few months to find new solutions for this…yikes!  Ok, ok, gotta stop freaking out here…
Fortunately I'm not alone, and have joined a support group for people facing this transition.  Just kidding about the support group, but there ARE others out there facing this problem and writing stories about alternatives.  I came across this one at Siliconangle (they saw this coming; the article is dated 2/11).  NewsBlur sounds the most promising so far, as I need something that's in sync across browsers AND iOS apps.
In the meantime, I've already backed up my Reader data (which thankfully includes starred items) using the Google Takeout tool.
I hate it when people MOVE MY CHEESE…   >:<