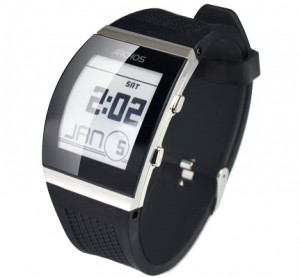 Archos unveiled a slew of new connected products in advance of CES, targeting two main areas.  The first is an array of products that's very similar to Withings to help you track your personal fitness – a wrist-mounted activity tracker, a blood pressure monitor, and a wifi-enabled scale, everything syncing to a smartphone app.  The second set of products falls into the connected home category – a weather station and wifi camera, and a tablet computer to help join it all together.
There's one more bit of technology though that kinda bridges these two…a smartwatch!  Well, more than one smartwatch, actually, with the cheapest priced at $50.
This market is becoming rapidly crowded…and I expect that 2014 will see this market explode, especially if Apple jumps in as expected.  Start saving your pennies now, it's going to be an expensive year for gadget lovers!
Look for more details on these products from Archos (and probably a dozen other competitors) once CES opens on January 7th.