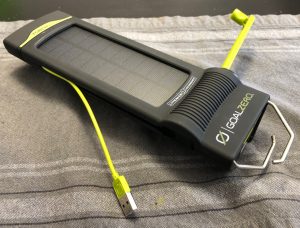 I love multi-function, high tech devices…so when I saw this new flashlight from Goal Zero, I had to pick one up and give it a try!  It features an internal, non-replaceable lithium-ion battery and multiple lighting and charging options.  At about $80 at Amazon, it's hardly cheap…so is the cost justified?  Read on to find out…
Illumination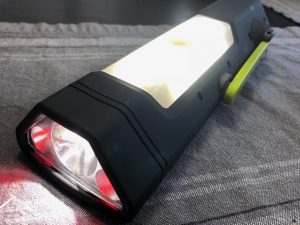 Let's talk first about its primary function – a flashlight.  It offers three different lighting modes, which may be used individually or simultaneously like I'm showing in this picture.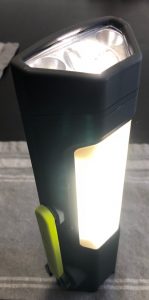 There's a bright floodlight (bright/dim options), a narrow spotlight (bright/dim options), and two red lights (steady or blinking).  Illumination is great…as a flashlight, I like it.  The shape is a bit weird to use as a regular handheld flashlight, but it fits the hand well and has a semi-soft-touch plastic shell which isn't slippery.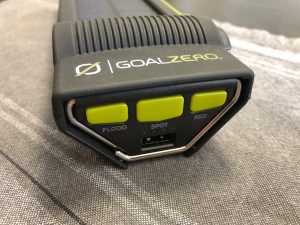 The control panel, shown here, is straightforward enough..push buttons for the three lighting modes, a USB port, and an array of four LEDs to indicate battery level.
With the two folding metal hooks, it's easy to hang…or just fold the hooks back in and the flashlight can stand on end.
Charging
Charging options are plentiful and what really justifies the price, I'd say.  You can plug it into a USB port, use the integrated hand crank, or the integrated solar panel.  The solar panel does require full, direct sunlight, and being small, is going to take a long time to charge this.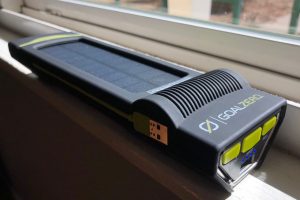 Still, if you just store this on a windowsill, you can have confidence that it'll be charged and ready to go if you need emergency power in the house.  The blue LEDs above the USB port light up when the panel is receiving enough sunlight to charge the internal battery.
USB
The last cool feature is that USB port in the pictures.  You can use the Goal Zero Torch 250 to charge a smartphone, or any other device that gets power from a USB port!  So this makes for a perfect survival tool…multiple charging options, multiple illumination options, and a portable power supply for other personal electronics.
Conclusion
It should be noted though that it's quite heavy…just a bit under one pound.  It's also not waterproof.  So, while it's an awesome light for RVs around around the house, I'd be very reluctant to take this on backpacking trips.  I think you're better off with traditional, small flashlights.   You can find it for about $80 at Amazon.