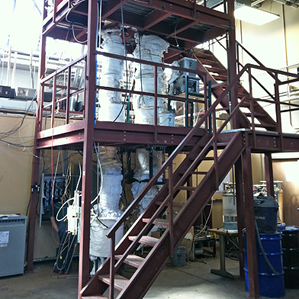 The idea of 'clean' coal power has really been more of a marketing ploy and not something that environmentalists would agree with…until now, that is.  Researchers at Ohio State University have proven a new clean coal technology in a 25kW facility ran for one week…far from the megawatt scale needed for industrial uses but no small feat and a great step towards that goal.  The next step is a one megawatt demonstration plant already in the planning stages.
So how does it work?  Burning coal is a messy process, producing lots of gaseous byproducts that are difficult to separate and manage.  This new process ("chemical looping") reacts with materials rich in oxygen, like iron oxide (ie, rust).  The energy in the coal breaks the bond between the oxygen and iron, which produces nearly pure CO2 as a byproduct (the other being iron metal and a mineral known as wustite).  So, it still produces the greenhouse gas CO2, but that CO2 is nearly pure, meaning it's much easier to contain it (at which point it can be used for industrial purposes or stored underground to not contribute to global warming).  The pure iron is then burned in a separate process, which produces heat to generate steam and drive turbines to generate electricity.
This is expected to result in only small increases in the cost of electricity…whether it can be scaled up to power plant levels quickly enough is the real question.
(via TechnologyReview)